How to Merge Videos Larger Than 1GB by Video Combiner
We all know that no movie is shot in a single clip; instead, several small video clips are carefully combined. Sounds unbelievable, but individually shot video clips create all the cinematic magic you see on a theatre screen. Suppose you are a video editor looking for a tool that will scale up your video editing skills, look at our video merging software.


Video Combiner
Video Combiner desktop app is a new age video editing software that merges bulks of videos into a single large video clip. Its sophisticated programming lets the users join videos shot in a different OS environment. To get the desired results, you can also set output parameters for the merged video. Let us take a look at the most promising features of the Video Combiner desktop app.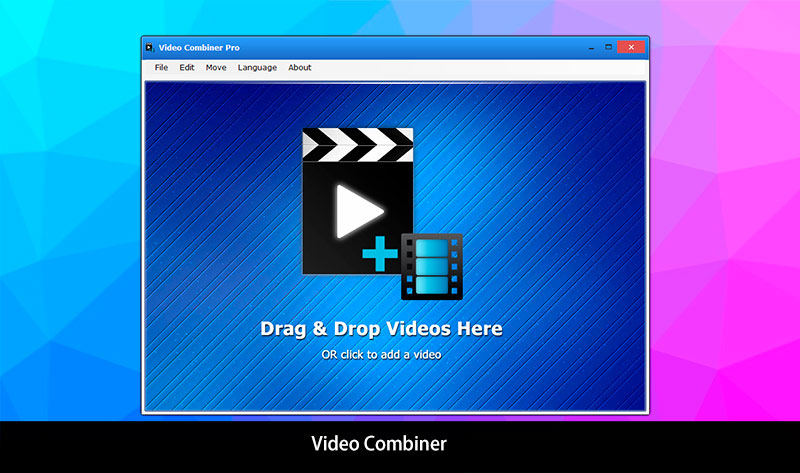 1. Mix Different Videos Clips into One Video
Combining smaller video clips into one mega clip is the signature feature of the Video Combiner. You can put up hundreds of videos of different formats in this app and process them. It is easier to store and locate a single clip on your PC instead of scattered video clips.


2. Auto-fit Screen Resolution Feature
Video Combiner is the perfect app if you desire to give a professional feel to the combined videos. The auto-fit screen feature lets the videos of different screen sizes adopt a unanimous screen fitting resolution. Video Combiner is indeed a perfect desktop app for vloggers and video editors.


3. Merge Unique Video Formats
The best part of Video Combiner is its universal compatibility with the different video formats. It is completely fine if you want to paste a MOV Clip into a string of FLV or MP4 clips. Along with the versatile combination of the videos, you can also pre-set the output format of your video.


4. Original Video Quality
The vast majority of the video merging software interfere with the processed video's original quality, and you get a poor output video. However, the Video Combiner preserves the original quality of the videos. Hence, you get what you are looking for in the processed video.


5. Customization of Aspect Ratio
Only a visual expert understands that the aspect ratio plays a deciding role in visual aesthetics. The Video Combiner lets you get a custom merged video having your desired aspect ratio. You can choose built-in aspect ratios such as 16:9 and 9:16, etc.


6. Android/iOS Video Compatibility
We all know how difficult it is to share a video from iOS to Android and vice versa. However, Video Combiner processes both the iOS and Android native videos into a united video clip. That is why iOS and Android video compatibility is a breath of fresh air for the video editors.


7. Bulk Video Processing
Grab the Video Combiner app if you have are supposed to deal with the bulk of videos. You can instruct Video Combiner to merge hundreds of videos at a time, irrespective of their duration and size. Yes, you can mix videos larger than 1GB by using the Video Combiner app.


8. Portable Version
Video Combiner is a plug-and-play desktop app, which makes it highly portable. You can download Video Combiner in a removable storage device or a storage cloud such as a USB drive or Google Drive. When in need, download and install Video Combiner on the Windows PC, and you are good to go.


9. Bitrate Customization
Have you ever observed how the video quality at YouTube changes when you select set video quality 240p to 720p? Similarly, Bitrate affects the standard of the merged clip. Using the Video Combiner's Bitrate option, you can customize the final video's quality to suit your needs.


10. 100% Clean - Junk Free Download
Video Combiner is available to download directly from the official MP3 Toolkit website. You can also go through other useful audio and video tools. No additional software is forcefully downloaded to your PC. Remember that clean installation is a sign of a reliable tool.



Video Combiner User Guide For Large Videos
Use the steps written below in the instruction guide to merge huge video clips using the Video Combiner.

Step 1: Use the "Add" option to select the list of videos you plan to receive in a merged video. You can also use the drop and drag feature for a quick selection of your videos.

Note: Video Combiner is a professional level tool that lets you process HD and Blue Ray quality video clips without any file limit. If you have huge video clips of more than 1Gb, no worries — Video Combiner will take care of it.

Step 2: Set the output parameters such as screen resolution, Bitrate, video format, and aspect ratio to get your desired results. For instance, you can choose FLV, VOB, MP4, WMV, MOV, 3GP, AVI, MPG, and others as output formats irrespective of video clips' original format.

Step 3: Now, use the "Browse" option to choose your PC's location for the final video's storage.

Step 4: Finally, kick-start the video combining process by pressing the "Combine Videos Now!" button.

Note: The video merger may take a while to finish, depending on the number of files uploaded for processing.